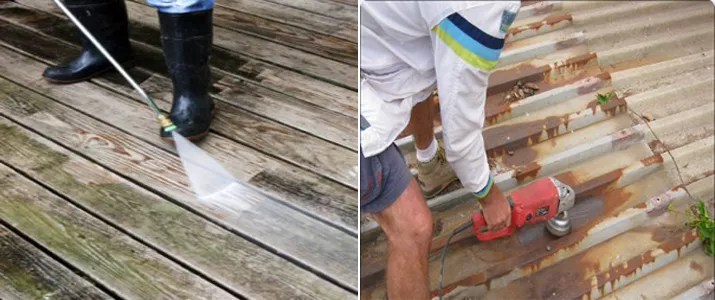 SPECIFIC SURFACE
1.AGED ALUMINUM
(Exposed to the elements for at least 2 months.) If possible, the only actions needed to wipe it clean from dirt & prime with Antirus Metal Primer .

2.ASBESTOS SHINGLES
If glazed, allow at least two years before painting. If shingles are weathered, remove all dirt and dust. Prime with Torga First Coat Concrete Primer.
3.BRASS & BRONZE
Remove only loose tarnish, but not all tarnish needs to be removed. Then wash with detergent to get rid of dirt and grease. Rinse well and allow to dry before priming.
4.CEDAR OR REDWOOD
The main problem with painting these surfaces is the fact that it discolors. This is known as tannin bleed. To control bleed, follow these recommendations: Priming with Arbo Undercoat Wood Primer for better stain-blocking characteristics. In wood containing an extremely high amount of tannin, two coats of primer may be necessary.
5.CHROME
Start by roughing up the surface with fine sandpaper or emery cloth. Wash with soap and water, then rinse and allow to dry. Prime with Antirus Metal Primer.
6.COPPER
Shall be cleaned free of dirt, oxides, and foreign matter. Acid etching with muriatic acid may be required to remove oxidation. Prime with Antirus Metal Primer.
7.DRYWALL-SHEETROCK-GYPSUM BOARD
Prime with a Torga First coat concrete primer. Do not use a solvent-based primer since it will raise the fiber of the wallboard.
8.FIBERGLASS
De-gloss or etch the surface by lightly sanding. Apply Epoxy Top coat for surfaces that may be used.
9.HARDBOARD
Before finish is applied to the panels, they must be cleaned. Apply an Arbo Undercoat Wood Primer.If hardboard is pre-primed, then finish with desired topcoat.
10.IRON, STEEL, & FERROUS METAL
NEW: Wipe clean with Arbo Regular Thinner spirits to eliminate any oil or grease. Remove all rust and mill scale. Using Arbo Rust Out – Rust Remover and wire brush. Prime with Antirus Metal Primer.
11.MASONRY (BLOCK, CINDER, AND CONCRETE)
Allow to dry 30-45 days under normal drying conditions prior to painting. If efflorescence or cement dust is present on masonry and concrete, it should be removed by etching with a 10% solution of muriatic acid. Flush off surface, after etching, with clean water and allow to dry. If etching is not possible to neutralize efflorescence, sand, scrape and wire brush; Torga Emulsion Paints will afford best results.
12.NEW ALUMINUM & GALVANIZED SURFACES
To paint these surfaces, you must start by solvent cleaning (with Arbo Regular Thinner) to remove any oily residue. Prime with Antirus Metal Primer followed by Antirus finishing coat of your choice.
13.NEW OR UNPAINTED CONCRETE FLOORS
New concrete should be allowed to cure 30 – 45 days at 75° F. prior to painting.
Check for any dampness on floors: if the water is coming from underneath the slab, hydrostatic pressure may cause the coating to lift off. To test for moisture, tape a 2 foot square piece of plastic on all four sides to the floor. Let rest overnight. Inspect the inside of the plastic for water drops. If water is present, the concrete is too wet to paint. Repeat the test after a week or two. If moisture is still indicated, water may be coming up from underneath the concrete slab. If so, the source of the water must be found and the water diverted or coating failure is likely to occur.
All concrete surfaces should be etched before painting with a solution of one part muriatic acid and three parts water. (Wear rubber gloves and goggles because this solution is hazardous.) Allow solution to bubble, then rinse well with clean water. When the bubbling action of the acid solution slows down, spray the area with a generous amount of water or first spray a solution of one pound of baking soda in five gallons of water to neutralize the acid and then flush with water. Brush while rinsing to remove all loose concrete. Allow surface to dry completely.
A properly etched surface should be clean and have the texture of medium grit sandpaper which would allow immediate water penetration. This will ensure the material being applied will bond to the concrete substrate. The surface should have a uniform texture of medium grit sandpaper, if not, the acid etching process must be repeated. Additional vacuuming may be required to remove powdery residue left from etching.
If muriatic acid is used for etching, check the pH of the final rinse water on the wet concrete with pH paper.  An ideal pH reading is 7.0 (neutral); however, a range of 6.0-9.0 is usually acceptable for most coatings, unless otherwise stated.
Note: Always use Torga Emulsion Paints on concrete substrate to avoid problems like saponification, efflorescence, etc.
14.PAINTED CONCRETE OR WOOD FLOORING
Be sure surface is free from dirt, dust, etc. by sweeping or vacuum cleaning. Remove grease, oil, floor compound and wax by chemical cleaning. Scrape carefully to remove deteriorated coatings. If remaining coating is glossy or very hard, sand it lightly for good adhesion of subsequent coatings. The surface must be thoroughly dry before coating.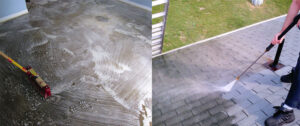 15.PAINTED STUCCO/TEXTURED FINISH
Should be cleaned and free from loose flakes and dust. Paint using Torga Emulsion Brush-On Solution.
16.PLASTER
Shall be allowed to dry thoroughly for at least 30-45 days before painting. Bare plaster should be dried, cured and hard. Fill any holes and cracks with Plasti-Fill. Sand smooth. Prime with Torga First Coat Concrete Primer and finish with Torga Matt or Semi-Gloss emulsion paint.
17.PLASTIC
If it is flexible, do NOT paint it. If stiff, wash with detergent and roughen with sandpaper or steel wool. Prime with Arbo Undercoat Wood Primer.
18.PREVIOUSLY PAINTED
IRON AND STEEL: If the old film is in good sound condition, all that needs to be done is to de-gloss the old surface with light sanding and clean with Arbo Regular Thinner. If the old film is in poor condition, it should be removed with Rip-Off Paint Remover. If metal has rusted, that too must be removed by wire brush or by Arbo Rust-out Rust Remover. Prime all bare spots with Antirus Metal Primer.
19.TERRA COTTA
Scrub with detergent and sand lightly with sandpaper. Prime with Arbo Undercoat Wood Primer.
20.UNPAINTED EXTERIOR WOOD SURFACES
Should be cleaned and dried. Prime and paint as soon as possible. No painting should be done immediately after a rain or during foggy weather, or when the temperature is below 50° F. Knots and pitch streaks shall be scraped or burned, sanded and spot primed before receiving a full coat of primer. All nail holes or small openings should be filled after the priming coat is applied. Prime with Arbo Undercoat Wood Primer.
21.UNPAINTED STUCCO/TEXTURED FINISH
This needs no special preparation. However, stucco/textured finish should be allowed to sit and dry thoroughly before it is painted.
Apply Torga Shield Over Glaze or Torga Emulsion Brush-On Solution.
22.WOOD PANELING
If it has a shiny surface, dull by sanding lightly and clean with mineral spirits to remove any wax. Prime with Arbo Undercoat Wood Primer.
23.WOODWORK – INTERIOR
All finishing lumber and flooring should be sanded smooth, with the grain -not across it. Surface blemishes shall be corrected. If painting, use an Arbo Undercoat Wood Primer.